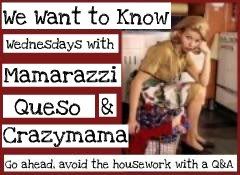 Umm, I've been pretty fortunate...
I pretty much loved every job I had.
Okay, maybe not the job but the people I
worked with.
I guess I would have to choose being
a dog bather at a dog grooming shop when I was 18-19.
have you ever been fired?
what would your dream job be?
Either owning some land and having my own photography
business or owning some land and running some kind of dog rescue.
to be when you "grew up"?
I wanted to be a veterinarian...or an ice skater.
Sixteen - I was a cashier at Hobby Lobby.